I hail from the Land of Jharkhand – which has recently been in the news for having the highest reported cases of WITCH hunting! (details of this menace are stated below my personal story)
I also happen to friends with a WITCH! 🙂
12th Dec 2016, was the fateful day when I met my "friend – the witch" 🙂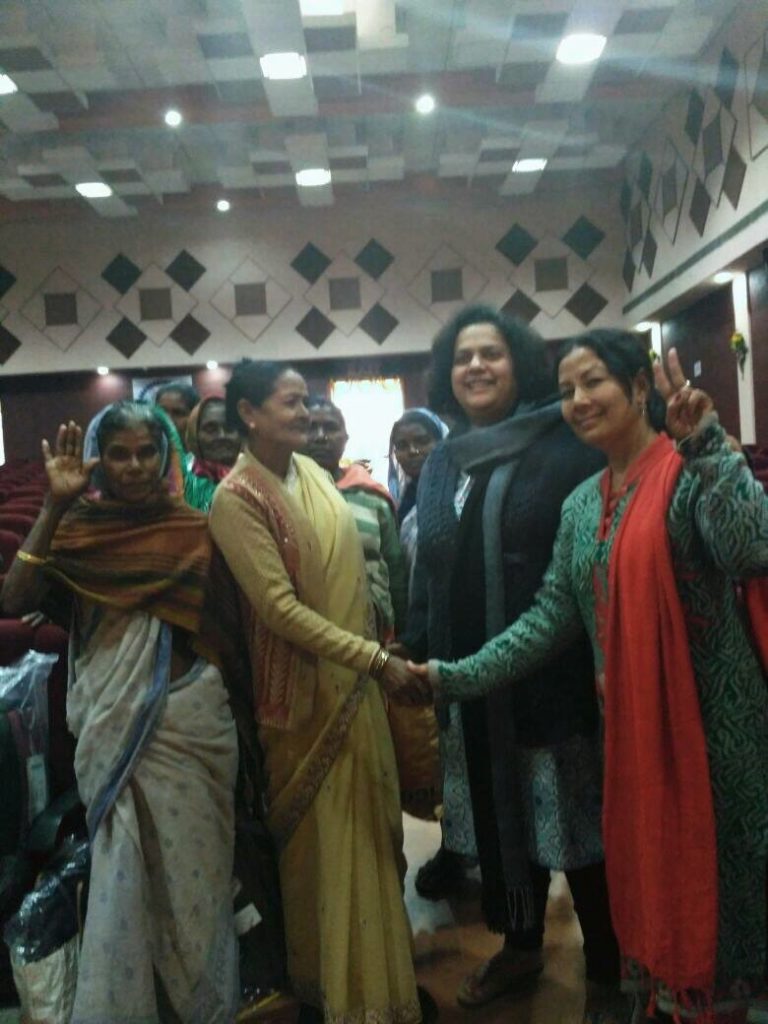 It was a 1 day workshiop organized by IPSOWA in association with Govt of Jharkhand, Asha NGO and JSLPS at Ranchi.
Chotni Oraon (I shall call her Chotni di) – Daayan (witch) accused survivor and activist was a speaker at the event.
She was fiery, she was fearless, she was honest – when she narrated her story. But what drew me to her emotionally was the one line she said:
Chotni di : " Agar hum Daayan ko shakti hota , to koi humko marne sakta kya?". (translation – "Had I been a witch, could someone have hit/killed me?")
It spoke of her helpless and her despair! It showed me the 1st true glimpse of the tortured soul of a woman.
A woman who had been accused of being a "powerful witch (Daayan)".
A woman who was rendered helpless and homeless at the stroke of midnight.
A woman who had to flee her village to just breathe.
She had been accused of being a Daayan (witch) by her own husband's brothers and beaten up multiple time… She ran to thaanas, politicians, officers to save her life and nothing came her way! She then decided that it was ONLY her she could trust to save her own life and that of her children! And she did!
That moment in time – made me her ally and her friend from afar.
And my immediate reaction – "yeh to buland bandi hai!" (translation – "she is a strong woman".)
I reached out to Chotni di – and we soon got talking about everything under the sun. Her trials and tribulations she said were a thing of the past – she told me that she has decided that till her last breath she shall fight all those who torture women in the of "Daayan Pratha" (witch hunting)
I share another super cute anecdote with you – Chotni di – has lost her front teeth and according to her – had she been vain about beauty and looks she would have gotten dentures made. But she didn't – after all now her fight is to "protect women from Daayan hunters, and not look and feel artificial"
Chotni di : "kaisa to nakli lagega sab daant – to hum soche – chodo, iska kya karna hai? Hum to waise hi sundar hain! Dekho tum mere paas aa gayee na! Kaise aati agar hum sundar nahin hote?" (translation: "the teeth would have felt artificial, so I thought why bother. I am in any case beautiful. See you came to me. How would you have come if I weren't beautiful?"
I then went and spent an entire day with her and her "gang of girls" – my honour and privilege! Many stories came out of that – but those for another tale…
This is just about my FRIEND – the WITCH!
I love the purity of her soul!
I love the sheer grit she has!
I love the strength of her spirit!
I hope she remains the way she is, always….
Helping YOU understand the menace of Witch Hunting / Daayan Pratha:
Witch Hunting / Daayan Pratha is prevalent in many areas of Jharkhand, Odisha, WB and Assam. The most affected are the tribal zones in all these states.
Women who are either widowed or single and have land – are the prime targets for Witch Hunting / Daayan Pratha. Here its a straight case of wanting to grab their property. The people who wish to run her out of the village or kill her goto the local Ojha/Gunni and bribe him to declare her as a Daayan. Then follows a stint of accusations of killing animals, babies – and/or making people fall ill etc.
The 2nd scenario is, when someone falls ill in the village and goes to the Ojha/Gunni. Either he/she is not cured or dies – now the Ojha/Gunni is looking for a person who is almost always a woman to blame (remember that more than 80% of the Indian population doesn't have access to specialist doctors in the interior villages). He either connives with the village heads who identify such a woman based on the above tenet of landed-ness. If he doesn't find someone like that – he starts mentally giving auto-suggestions to the family of the deceased – "dhoondho kisase aapko dushmani hai, dhoondho kisko aapse iirsha hai" (translation – "find out who is your enemy or who is jealous of you"). And then the Daayan is identified.
Data has shown that Daayan pratha or witch hunting normally happens in the poorest communities and are mostly always are of tribal origins – where the belief on witchcraft and black magic is strong.
The process of Witch hunting itself is brutal. First the woman is paraded naked in the village and beaten with sticks and stones and threatened – if she leaves the village then fine. Else she is "hunted like an animal" and lynched by the mob. It is believed that the gorier her death – the less likely that she shall be reborn.
For more statistics and researches on Daayan Pratha / Witch Hunting : https://en.wikipedia.org/wiki/Modern_witch-hunts#India
To know more about this evil practise – email: me@malavika.sharma.com
#fightGenderBasedViolence #patriarchy #fightDaayanPratha